Crossroads girls defeat Pentwater
Published 
By John Raffel
BIG RAPIDS — It was sweet revenge for Crossroads' girls basketball team in Thursday's 47-34 West Michigan D League win over Pentwater.
The Cougars lost to the Falcons earlier in the season 35-29.
But this was the night for CCA (8-4, 9-6) against Pentwater (4-8, 6-10).
"We finished the game tonight," CCA coach Jason Kostecki said. "We were up the whole game there and threw the ball away and didn't hold our composure well. But we did that tonight. The girls did what they needed to do and made the plays they needed to make."
Daylyn Ezell netted a pair of threes in the first quarter to ignite CCA to a 12-4 lead. Pentwater outscored the Cougars 12-8 in the second quarter to get back in the game. Allie Angell had four points in each of the first two quarters for Crossroads, which led 20-16 at halftime.
Midway in the third, Angell scored off a steal for a 25-21 lead. Pentwater hung close but Triston Murray hit two free throws for a 28-24 lead. Mackenzie scored for a field goal and later passed to Angell for a 32-28 lead.
It was 32-30, CCA after three.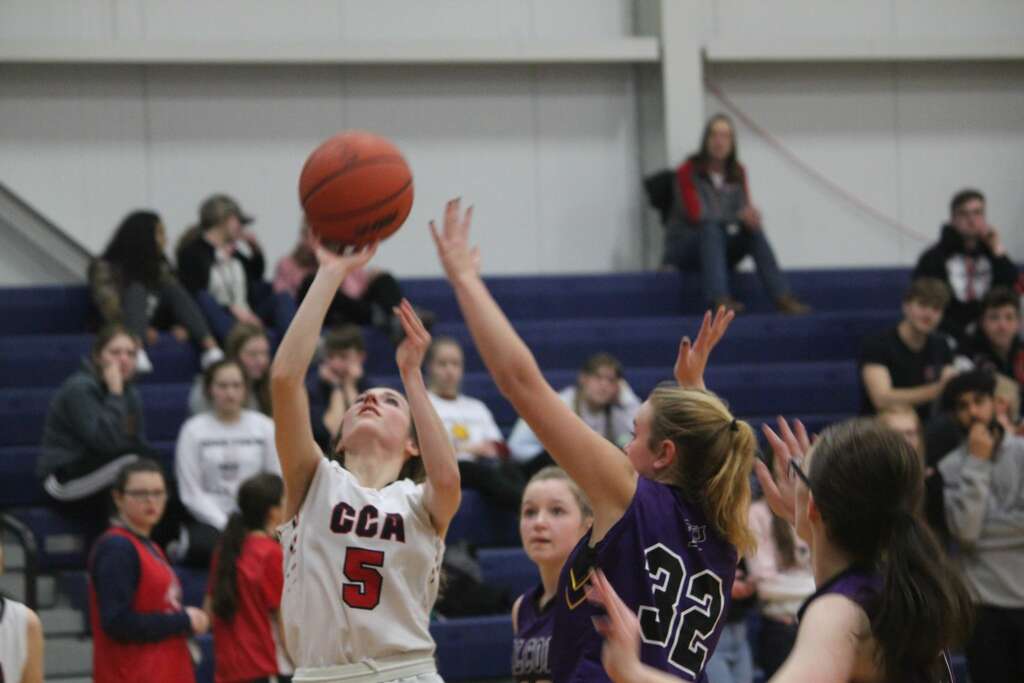 Murray scored off the glass for a 34-30 lead to open the third. Cole's triple at 6:05 made it 37-30. Angell scored a minute later for a 39-32 lead.
Gretchen Purcell hit two free throws at 1:08 for a 45-34 Cougar lead.
Angell had 20 points for Crossroads, followed by Cole (9), Ezell (6) Jessica Cole (6), (Murray (4) and Purcell (2).
"Coaches have been talking to us about rebounding," Angell said. "We just got more aggressive and our shots were falling."
Angell also had 10 rebounds and 10 steals.
"She was in kind of a little slump and has been in foul trouble lately," Kostecki said. "We changed her around defensively and moved her on top of that 2-3 zone and kept her out of foul trouble. It worked real well tonight."
Crossroads is home tonight against Brethren.