CCA wins soccer league soccer tournament
 Published 
BIG RAPIDS — Crossroads Charter Academy's boys soccer team had a win and a tie to win the West Michigan D League Tournament title at the Mitchell Creek Sports Complex on Saturday.
The Cougars started with a 1-1 tie against Pentwater.
"We saw Pentwater earlier in the season and beat them 8-2," CCA coach Josh Yurick said. "We came out a little full of ourselves. Being early in the morning, I don't think teenagers do that well that time of day."
CCA scored 10 minutes into the game with a goal by Dawson Soller and assist to Javyd Sawyer-Ocasi. Pentwater tied it minutes later.
Walkerville won 1-0 over Pentwater with a penalty kick. CCA beat Walkerville 3-1 in the Cougars' second game. Six minutes into the game, Dawson Soller scored. Joe Wendlowsky later in the half added CCA's second goal. It was 2-0 at halftime.
Walkerville scored within the first 10 minutes of the second half. CCA got two penalty kick opportunities and Tyler Omo made his.
Goalkeeper Cameron Carnes had seven saves for the day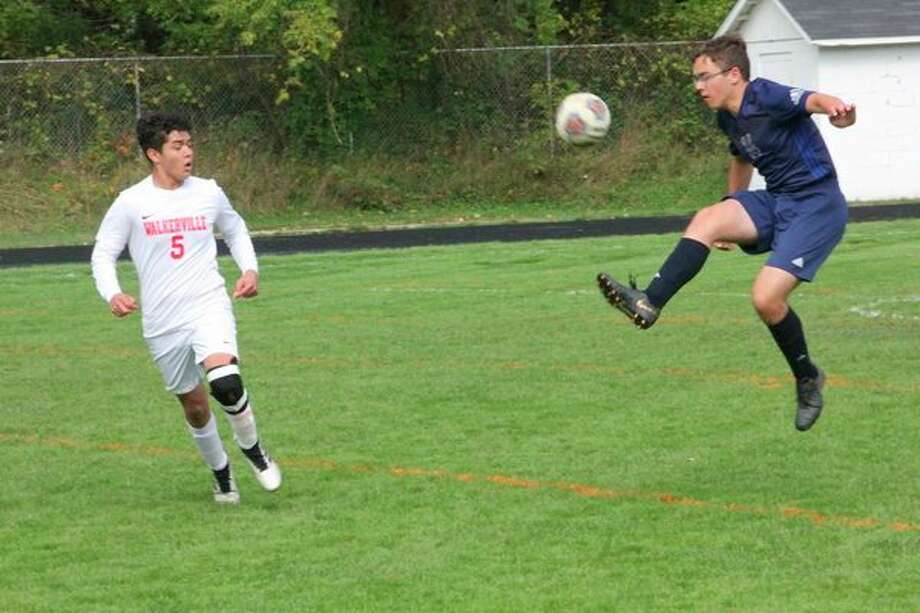 Crossroads' Joseph Gardei (14) goes after the ball against Walkerville during Saturday's league tournament game. (Pioneer photo/John Raffel)